Simple Sports Yearbooks & Media Guides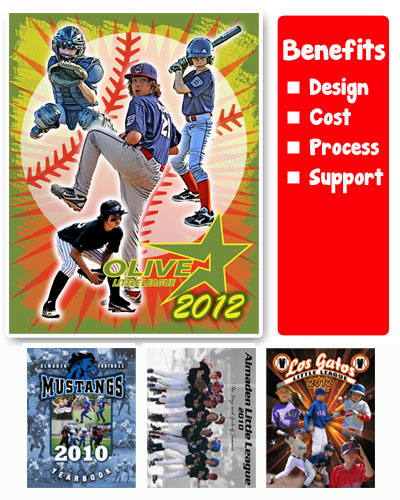 League Prints publishes, prints and designs yearbooks & media guides on behalf of youth leagues and teams throughout the US. No project is too small. We make the project painless for volunteers!
How to Start Project: Overview
Get Quote: Instant, Manual
Select Design: Baseball, Softball, Football, Basketball, Soccer, Lacrosse
DOWNLOAD: Yearbook INFO SHEET
Why Yearbooks?
For Kids
Fun Photos
Information about your team
Information about your friends
Volunteers/Team Coordinators
Super, ready-made designs
Custom project documents to streamline the process
Dedicated project support staff
Project Tips
Visit our blog for fantastic project tips, order forms and more.
If you would like to speak with somebody about a potential project, please call: 866.885.2860. If you would like an immediate quote, please complete the form HERE.